vCloudPoint Zero Client Computing
vCloudPoint zero clients, combined with vMatrix software, provides an innovative way of desktop computing —  Sharing Computing, which delivers the same PC experience desktops to users at a fraction of the cost of a typical PC solution, while still offering a variety of  benefits over PCs
Extending 1 PC to 30 workstations
The vCloudPoint zero client is a network computer terminal that effectively allows multiple users to simultaneously share the untapped resources of a PC desktop while still providing users with the same PC experience.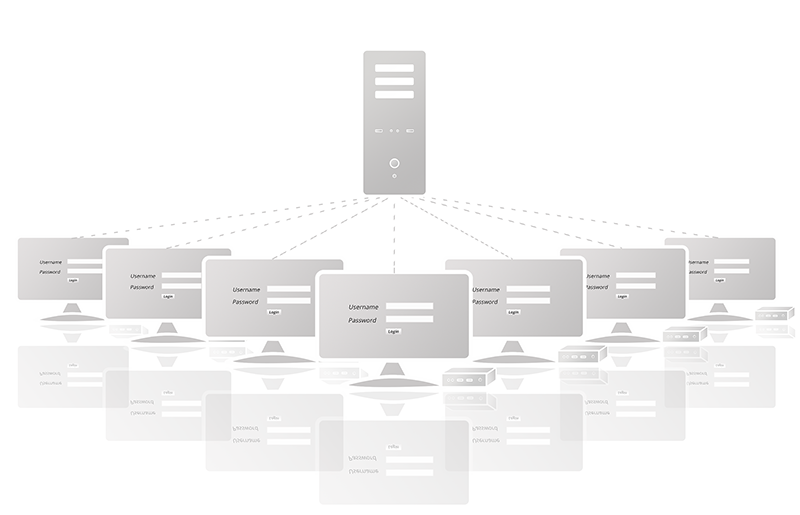 It is not just a computer terminal.
But a new way to deliver desktops.
vCloudPoint zero client is also referred to as ultra thin client, because it contains no moving parts but centralizes all processing and storage to just what is running on the host. As a result, it requires no local driver to install, no patch management, and no local operating system licensing fees or updates. The device consumes very little power and is tamper-resistant and completely incapable of storing any data locally, providing a more secure endpoint.
Replace desktops with vCloudPoint zero clients, Save:

70% in capital cost.

95% in power consumption.

95% in maintenance cost.

90% in future up-gradation.

Read More
Getting it ready is easy as 123!
1

Install vMatrix Software

2

Create User Accounts

3

Connect to Start
vMatrix Server Manager Software
The vMatrix Server Manager software, running on the host PC, enhances the overall functionality and usability of the sharing system by offering connection brokering, graphic acceleration, audio & USB redirection, centralized management. IT Administrators can configure, monitor and manage the endpoint devices and users centrally and simply at the server side through the front-end console.
The functions performed by vMatrix Server Manager software include:

Giving the administrator complete visibility into the OS, CPU, memory, storage, networking and other critical elements of the host computer;
Creating and managing user accounts & password;
Authorizing users to access specific desktop session;
Discovering vCloudPoint zero clients and USB peripherals;
Monitoring and controlling end user desktops;
Configuring user USB, audio, resolution, video, etc;
Broadcasting the administrator's desktop to the end users;
Controlling privacy and visibility of disk partitions to users;
Providing a communication path for administrators & users through the integrated Chatting Room;
Keeping down user and administration behavior;

Download For Free
Dynamic Desktop Protocol (DDP)
vCloudPoint zero clients utilize its innovative Dynamic Desktop Protocol for remote desktop display. This protocol is purpose-built for zero clients and is designed to make efficient use of the network bandwidth and host resources, delivering a user experience that is equivalent to a business PC.
Full HD Video

Real full HD local or online video
Any media format, any media player
30fps, smooth in 1920*1080 resolution
30 simultaneous 1080p videos on an i7 host

High Quality Audio

16 bits 44.1/48 KHz high quality
Play and record in all supported OSs
Fully synchronized, only 0.1-0.2 sec delay
No configuration, plug and play

Broad USB Devices

Support a broad range of peripherals
No client driver required
Plug and play, works any time
No side issues like multiple printer copies or memory devices visible to everyone