Issue:After installing the recent Windows system patch, shared hosts with RDP Wrapper does not support multiple user login. The system prompts a warning that the remote desktop user will log the previous user out. When running "RDPConf" file of RDP Wrapper, it shows "NOT SUPPORTED".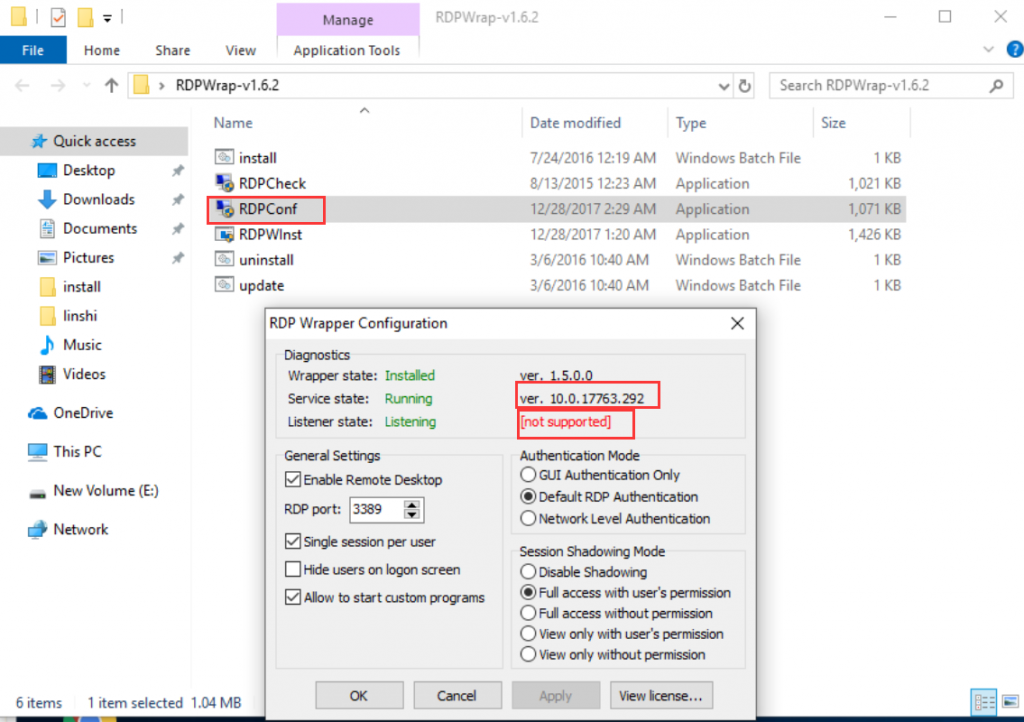 Cause:the recent system patch modified the terminal services (termsrv.dll) file, causing the RDP Wrapper failed.
Prior Solution: update RDP Wrapper
Run "update.bat" directly in the RDP Wrapper folder and wait for seconds for processing update; then run the "RDPConf.exe" file to check if it is supported after update.
If the above update does not work, try the following solutions.
Solution 1 [recommended]:by replacing the terminal services file (termsrv.dll) with an old version.
Uninstall RDP wrapper: run the "uninstall.bat" file at the RDP Wrapper's folder.
Stop remote desktop services: open "services" panel [run "services.msc"] -> find "Remote Desktop Services" -> double click to disable it.
Replace the "termsrv.dll" file:[click here to download and find the correct old version of "termsrv.dll" file according to your system]
Go to C:\ Windows \ System32- >right click to choose"Property"->Security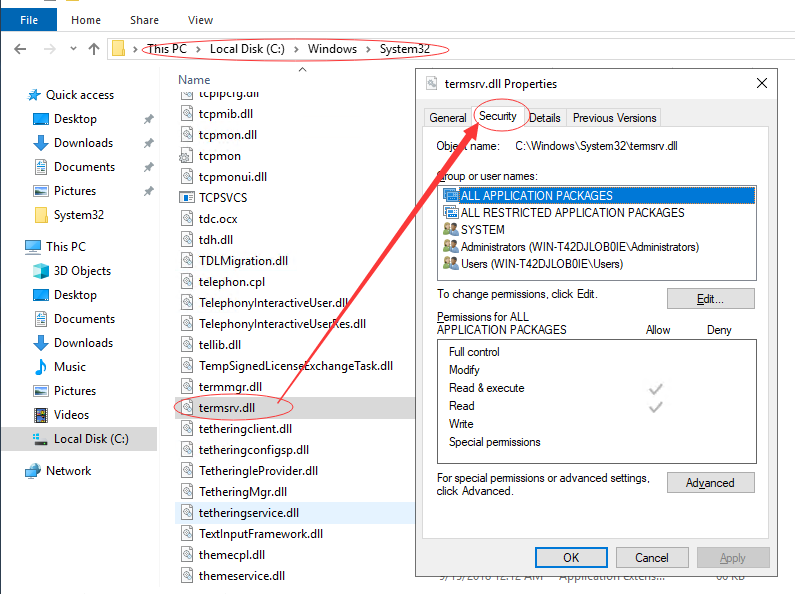 -> click "Advanced"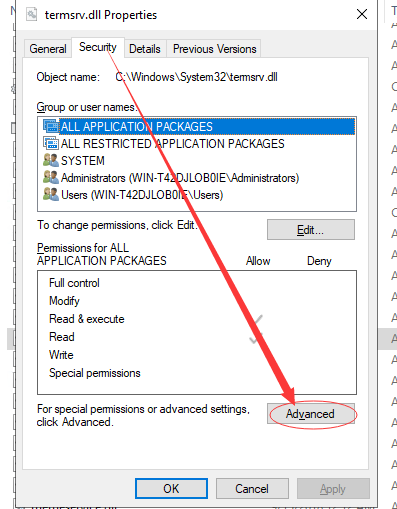 -> click "Change" to change the owner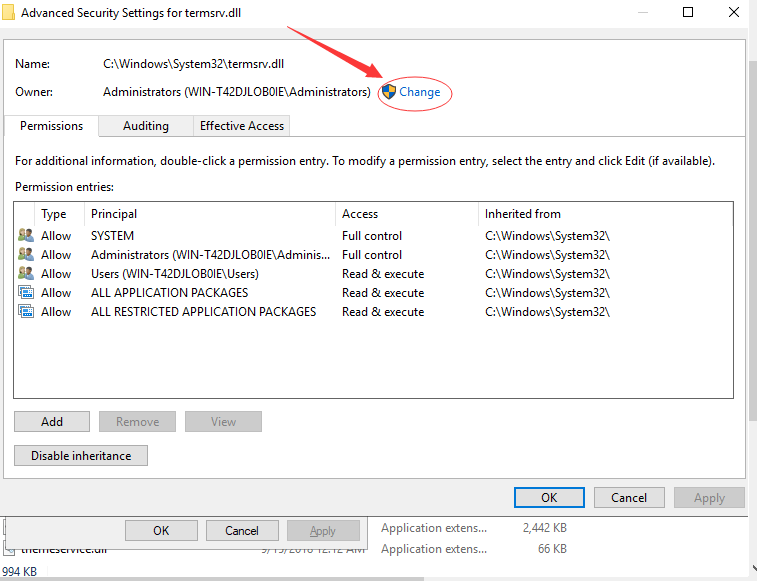 -> click "Advanced"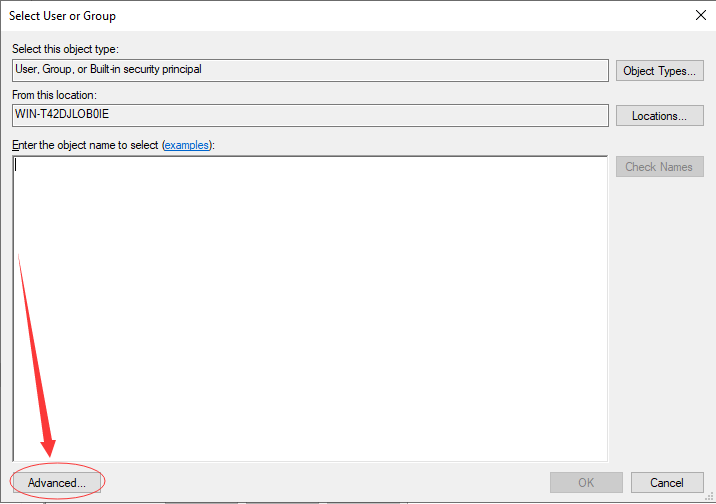 -> click "Find Now"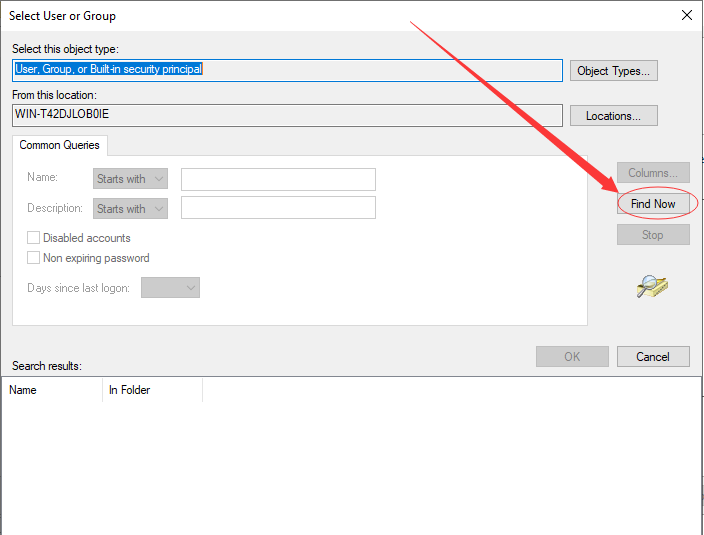 -> choose "Administrators" group
-> apply changes -> go back to "Security" tab, click "Edit…"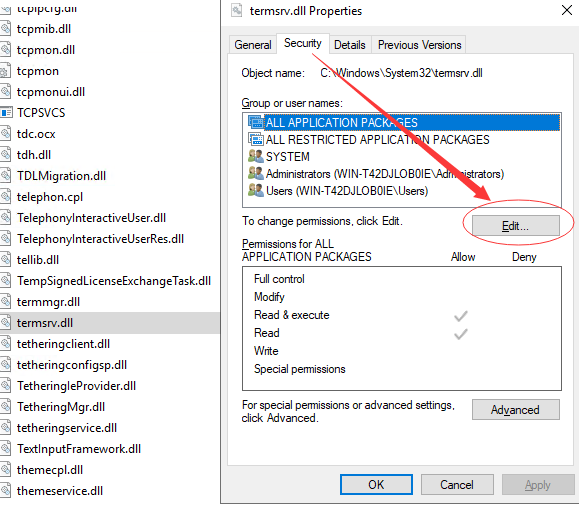 -> select the "administrators" group users and allow "Modify"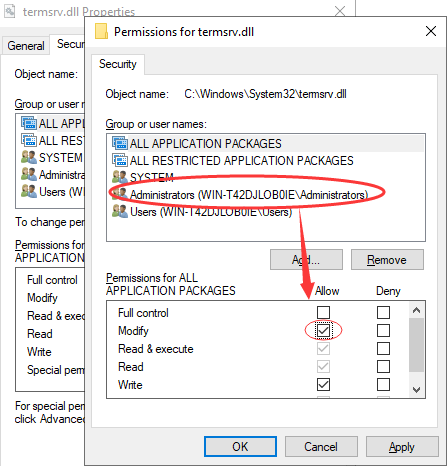 -> apply changes -> right click "termsrv.dll" file, and rename it,e.g.: "termsrv.dll.bak"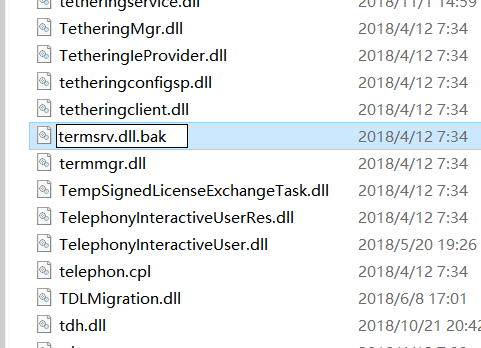 -> click "yes" in the pop-up window to confirm rename -> copy the downloaded old version of "termsrv.dll" into this folder to complete replacement.
Enable remote desktop services.
Re-install RDP Wrapper.
Solution 2:by uninstall the recent system patch.
Uninstall the patch through: start-> settings-> update & security-> view update history-> uninstall patches, click on the patch to uninstall; or run CMD command to uninstall: wusa /uninstall /kb:[patch code] /quiet .
Note: if you have deleted the patch backup in the system folder, you will find the uninstall option of this patch unavailable.
How to disable automatic system update?
Download and install Windows Update blocker at https://www.sordum.org/.
Windows Update Blocker is developed by BlueLife and publish on sordum.org. Windows Update Blocker is a freeware that helps you to completely disable or enable Automatic Updates on your Windows system, with just a click of the button.
Windows Update blocker helps you automatically disable or enable the system services in association with Windows update, including: Delivery Optimization Service(dosvc), Windows Update Medic Service(WaaSMedicSvc), Update Orchestrator Service(UsoSv), Background Intelligent Transfer Service(BITS). Or you can manually manage these services at the Services panel (run "services").
Note: RDP Wrapper is developed by Stas'M Corp and released on Github at https://github.com/stascorp/rdpwrap. Your use of RDP Wrapper is not legally licensed by Microsoft. We recommend you use RDP Wrapper for testing or trial purpose. For actual use of vCloudPoint products, your are always recommended to purchase and install Microsoft RDS-CALs which is compatible with any future Windows system updates.
For further assistance using vCloudPoint products, please email to [email protected]