Overview
The game-changing zero client
vCloudPoint zero client is a game-changing device that overcomes the weaknesses of traditional zero/thin client. Combined with the vMatrix Server Manager software, it provides the most powerful yet easiest-to-deploy, use, and manage sharing solution without sacrificing desktop experience and delivers the best TCO.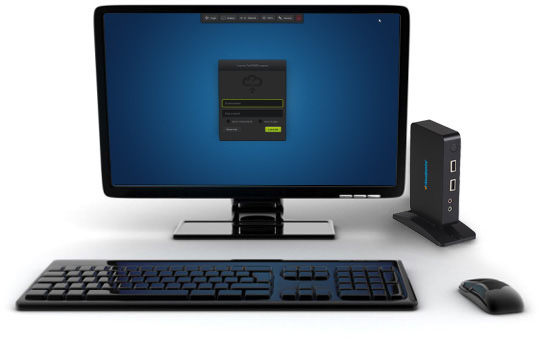 The vCloudPoint device is a compact, cell-phone size network access device that connects the end user's display, input devices and other USB peripherals to the desktop sessions running on a shared computer and effectively allows up to 99 users to simultaneously share its untapped resources while still providing users with rich PC experience.
The vCloudPoint device is referred to as a zero client because in contrast to thin client and PC, it contains no moving parts but only the necessary hardware & firmware to initialize a conversation with the network, begin network protocol processes, and display desktop output. It centralizes all software, processing and management to just what is running on the host, leaving little more than a keyboard, mouse and monitor at a user's desk. As a result, it requires no endpoint management software, no local driver to install, no patch management, and no local operating system licensing fees or updates. The device consumes very little power and is tamper-resistant and completely incapable of storing any data locally, providing a more secure endpoint.
Software
vMatrix Server Manager Software
The vMatrix Server Manager software, running on the host computer, enhances the overall functionality and usability of the sharing system by offering flexible OS support, secure desktop roaming, centralized management and broad peripheral support. IT Administrators can configure, monitor and manage the endpoint devices and users centrally and simply at the server side through the front-end console.
The functions performed by vMatrix Server Manager software include:

Giving the administrator complete visibility into the OS, CPU, memory, storage, networking and other critical elements of the host computer;
Creating and managing user accounts & password;
Authorizing users to access specific desktop session;
Discovering vCloudPoint zero clients and USB peripherals;
Monitoring and controlling end user desktops;
Configuring user USB, audio, resolution, video, etc;
Broadcasting the administrator's desktop to the end users;
Controlling privacy and visibility of disk partitions to users;
Providing a communication path for administrators & users through the integrated Chatting Room;
Keeping down user and administration behavior;
Benefits
Reducing costs

Reducing initial acquisition costs— The initial acquisition costs are saved when replacing PCs with vCloudPoint zero clients which cost less than half the price of entry-level PCs.
Better leverage of IT budgets— Sharing resources on a centralized PC improves leverage of hardware upgrade budgets and software licensing.
Minimizing endpoint maintenance— With no failure -prone moving parts, repairs on the zero clients are rare and your maintenance costs are minimized to just on the shared computer.
Greater energy saving— Compare to the 110 watts or more by a typical PC, the vCloudPoint zero clients consume only 5 watts and produce much less heat, providing at least an 80% savings in energy consumption and air conditioning over PCs.
Longer desktop refresh cycles— Lack of moving parts improves life spans in harsh environments like restaurants, public spaces, warehousing and manufacturing. The obsolescence-free feature also proves longer desktop refresh cycles, saving both refresh budgets and cutting the time for the refresh from weeks to hours.
Easy provisioning— Deploying hundreds of workstations can be a few hours compared to days or weeks with PCs. Install the vMatrix Server software on the shared PC, add multiple users, plug in Ethernet cable, mouse, keyboard, and monitor, and users are ready to work. A new workstation can be setup in seconds.
Centralized management.— There is nothing for IT to configure, manage, or update at the endpoint. All installations, patches & updates are done on a single host. One IT staff can handle 5 times as many devices and users compared to PCs.
Remote technical support— IT and support staff can provide support or fix problems right from their desks through monitoring and controlling over user desktops, eliminating the costs and delays of having to travel to remote user locations.

Increasing productivity
Improving efficiency

Reducing unplanned downtime— With no failure-prone parts and desktop-related problems unplanned endpoint downtime is greatly reduced. Even when turn faulty, the vCloudPoint zero client can be placed, helping the user back to work in seconds.
Rapid roaming from any client— No time is wasted on moving a heavy laptop or rebooting the system. With a simple log-off and then log-in from any vCloudPoint zero client, the user's back at his desktop with all open applications and files still in place.
Enabling file sharing— With some disks configured visible to all, users can share and store files easily on these public disks without the need to copy or transfer between desktops.
Eliminating virus infection— With no resident OS or storage capable of running software, the vCloudPoint zero client provides a completely secure endpoint that is immune to viruses and other malware.
Security policies and monitoring— vMatrix allows IT staff to apply security policies, monitor, and remotely disable any end user from logging in or lock-down locally connected USB peripherals, preventing users from copying confidential data to removable storage.
No risk of data lost— Since the vCloudPoint zero clients cannot store any data locally, users are free of worrying about data loss stemming from hardware failure or laptop/PC theft.

Enhancing security
Protecting Environment

Freeing desktop footprint— The vCloudPoint zero client is only a cellphone size and can be mounted on the back of the monitor to save valuable space on the desktop.
No Noise on working— Without any storage and fan, the vCloudPoint zero client makes no noise when running.
Less heat and e-waste— Consuming much less energy meaning the vCloudPoint zero client produces much less heat and e-waste when compared to standard PCs.
Technical
Hardware:
Power consumption
Standby: 0.2w; working: 5W (independent of external USB devices)
Connections
Front Panel: 2 × USB 2.0 ports, 1× microphone jack, 1× speaker jack
Rear Panel: 2× USB 2.0 ports,1× 5V DC in, 1× VGA monitor, 1× RJ45 Ethernet, 1× power/reset switch
Resolutions
Normal display resolutions (32 bits @ 60Hz): 640×480, 800×600, 1024×768, 1280×1024, and 1600×1200
Wide display resolutions (32 bits @ 60Hz): 1360×768, 1366×768, 1440×900, 1600×900,1680×1050, and 1920×1080
Audio
16 bits, 44.1Khz/ 48Khz audio input / output via 3.5mm stereo jacks
Video
Full HD 1080p for all media formats (Server-side rendering for local and web-embedded videos on most media players; Client-side rendering for local videos on VLC player 2.1.5 or newer versions)
Networking
10/100 Mbps Ethernet (RJ45), optional WIFI antenna: 802.11b/g/n (built-in or extenal)
Maximum number
of users per shared host
vMatrix Server Manager permits up to 99 users per shared host. Actual number of supported users depends on the host configuration and the type of applications used. View Host Configuration Guide at https://www.vcloudpoint.com/support/faq-how-tos/
Internal hardware
All solid-state design. No moving parts, no fans, no local user storage.
Data security
No local data storage on device. USB data access controlled by user policy
Reliability (MTBF)
>100,000 hours (calculated using Bellcore Issue 6 TR-332, Case 2, Part I at 40° C)
Certifications
FCC Class B, CE, CCC and RoHS compliant
Environmental
0 to 40 degrees Celsius 10 to 85% relative humidity (non-condensing) No moving parts permits use in high dust / particulate / vibration environments.
Size
124(W)x75(D)x26(H) mm
Weight
125g for device, 70g for power supply, 400g for shipping weight
Kit Contents
Each kit includes an S100 device, power supply, VESA-compliant monitor mounting bracket. vMatrix Server Manager and installation & user guide can be downloaded at vcloudpoint.com/support/downloads; PC, monitor, keyboard, mouse, speakers, microphone, and other peripherals are NOTincluded and must be purchased separately.
Software:
User software
vCloudPoint's vMatrix Server Manager with Dynamic Desktop Protocol (DDP)
Supported operating system
Microsoft Windows XP SP3 Pro 32bits, 7, 8 ,8.1 & 10 (excluding Starter and Home Basic editions), Server 2003 32 bits, 2008R2, 2012, 2012R2, Multipoint Server 2011, 2012
License
Depends on the operating system, you may require respective Microsoft Remote Desktop Services
Client Access (RDS CAL) License for each vCloudPoint user or device.