Demand Analysis
The Internet has transformed the lifestyle of people around the world. Public computer access is inevitable now.  Hotels, libraries, playgrounds, restaurants, community network centers are some of the public places that have internet and computer access to the commoners. This public computing is actually very challenging because PCs are open to harsh environments and the public utility of PCs decrease the lifespan. Providing seamless as well as high-quality computing experience for the customers is the biggest issue, one faces from the IT management sector of the public places. Many of these public spots use decentralized computers as information terminals. These terminals advance and develop with the advancements in the information technology, which again create issues and bring in more management difficulties.
Difficult Maintenance: Each individual computer must be installed with OS, patch upgrades, software, etc. separately, which is time-consuming, laborious, incompetent, and expensive. It requires more workforce.
Frequent Failures: The hardware and software of the PCs meet with failures often that cannot be rectified on time. The OS and application software of every PC is weak and prone to virus infection, which can cause a system crash. Traditional desktop PCs are prone to hardware problems due to a large number of components and low hardware integration. If these issues with traditional PCs cannot be fixed in time by the IT staff, the routine public access will be affected.
Poor Security: Public computing is rough and the PCs are naïve. The moving crowd may pass viruses that damage the software and crash the systems. Traditional PCs contain many broad-purpose modular parts like CPU, hard disks, etc. that are small but highly valuable and can be easily stolen. Computers in public lack security in the traditional way.
Expensive Deployment: The initial purchase expenses along with software licensing fees, upgrades, configuration, and management costs are high to provide each user with a PC.
Low Flexibility: PCs are often installed with a certain system and software for a specific use case. They are not adaptive for new environments while public computing is often required to be flexible to meet the different needs of changing use cases.
Solution
vCloudPoint zero clients, combined with vMatrix Server Manager software, provides an innovative way of desktop computing by powering multiple users with just one host computer. The vCloudPoint zero client devices have no moving parts, no hardware for processing or storage. All processing and storage are done on the host computer. Hence, there is no need to install local drivers, managing patches and no software licensing fees and updates for the zero clients as they serve only as input and output devices. The vMatrix Server Manager software, running on the host PC, enhances the overall functionality and usability of the sharing system by offering connection brokering, graphics acceleration, audio & USB redirection, centralized management. IT Administrators can configure, monitor and manage the endpoint devices and users centrally and simply at the server side through the front-end console. vCloudPoint zero clients, combined with vMatrix Server Manager software, provide a computing experience that is practically indistinguishable from running on a PC and offer great advantages over traditional PCs, such as saved costs, enhanced security, reduced maintenance, and simplified deployment and management.
Benefits
vCloudPoint zero client minimizes the purchase costs of PCs by 50%. Its power consumption is only 5W by average and only 1KW consumption for a month.
The vCloudPoint system is simple to deploy. It only needs to install software on the host and create a user account. All end users can use the system and software on the shared host.
The vCloudPoint terminal device is ARM architecture zero client with compact structure and no breakable parts, to cause hardware failure; if there is device damage, it can be replaced directly without software installation and configuration.
The vCloudPoint zero client has no local system software to be infected by malware and virus. All drivers, software, system installation, updates and patches are installed on the host; ordinary users have no permission to perform software installation and system change, which prevents hacking or crash to the system and software.
Administrators by authorization can view terminal desktops in real-time and provide support or solve problems directly from the host through remote control, reducing the time and trouble of travelling to site.

Since the user data is centrally stored on the shared host, data loss or leak is negative. Even if the terminal is missing, data remains secure. IT staff can monitor the users and prevent the usage of USB and other storage devices and copying of important data to their removable disks.
IT staff can set up storage visibility policies to different users. Disk partitions can be configured as invisible to all users or Public Disk in which files are visible and can be shared by all users or Private Disk in which personal files are invisible to others.
vCloudPoint's proprietary desktop protocol enables excellent desktop performance for the zero client users in different use case, including smooth operation, high fidelity display, and rich multimedia support.
The server software can perform remote control terminal devices, such as power on/off, restart, etc. The zero clients can be configured with auto-login, auto-power-on and kiosk mode for the unattended access of end users.
The size of the zero client is small, like a mobile phone and secured behind the display to get space. Fan is absent, preventing noise while at work, consume low power, and produce less heat and emissions, unlike PCs.
Installation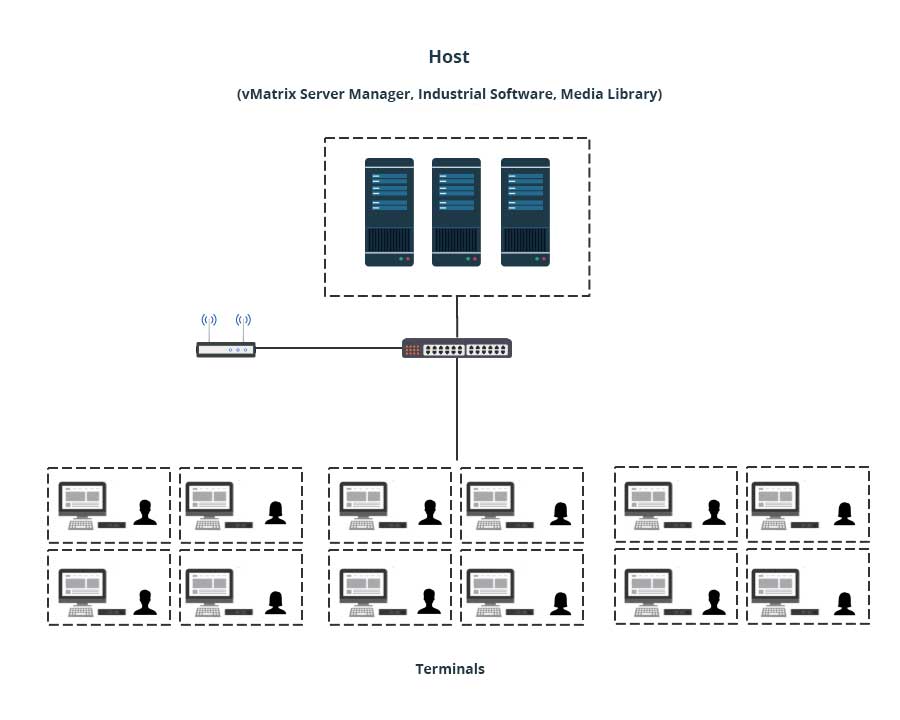 The vCloudPoint system includes:

Shared host: the computing and storage machine that delivers virtual desktops to end users.
Zero client devices: the devices for connecting end users to the virtual desktops on the host.
vMatrix Server Manager:  running on the host to enhances the overall functionality and usability of the sharing system by offering connection brokering, graphics acceleration, audio & USB redirection, and centralized management.

Depending on the real implementations, customers may need to purchase additional network devices, keyboard & mouse and monitor for each workstation, and other necessary hardware or software in use with the computing system.

Implementation Steps:

Connect the zero client devices to monitor, USB peripherals and then connect to the LAN switch through the network cable.
Install the vMatrix Server Manager, the multi-user patch, USB drivers and other required applications on the host.
Create user accounts with vMatrix Server Manager.
Login with created user accounts and ready to work on the zero clients.

Optional:

You can do some configurations depending on your specific use case, for example, setting auto power-on and auto-login for devices, themes, wallpaper, desktop icons, auto-run application and USB policy for users.
You can use third-party recovery software or Windows systems for crash recovery or data back-up.
Case Studies
Country : Bangladesh End user name :  NRB Bank in Bangladesh Product Model:S100 Total number of servers deployed: 1 Total number deployed :  12 seats in 1 office Applications : Word,Excel,PPT,browser,email,etc. Server configuration : Server: HP Prodesk 600G3 CPU: Intel i7-7700 Memory: 16GB SSD for system and user files : unknown HDD for storage :2TB OS:Windows 10

Country : Turkey End user name :  Kocaeli Büyükşehir Belediyesi – Bilgi Evleri Product model:S100 Applications : Basic computer education, accounting, coding, web design and graphic design,etc. Total number deployed :  In total, the information houses that are installed in 13 different locations serve between 15-24 users on average.

Country : Jordan End user name :  Al Qasr Metropole Hotel Website:http://www.alqasrmetropole.com/ Product model:S100 Total number of servers deployed: 1 Total number deployed : 10 seats in 1 control room Server configuration for each 10 seats : CPU : Intel Core i7-7700 Memory:16GB SSD for system and userfiles:unknown HDD for storage:500GB OS : Windows 10 Pro