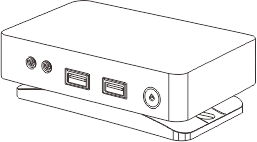 Most customers mistakenly think that a zero client should be, like thin clients, configured high in its internal hardware such as, CPU, flash, network chipset, to grantee a high performance.
Unlike x86 thin clients that are typically required for standalone usage and have local system and software. Zero clients offer nothing locally but just enable users to connect to a remote desktop. In other words, the residing hardware of a zero client does not act on jobs of processing locally as in thin clients, but only to initialize a conversation with the network, begin network protocol processes, and display desktop output. Therefore, the configuration of a zero client itself does not contribute to its performance. Even a zero client with powerful configuration as a Pro PC can't guarantee good performance.
Then what helps with good performance to a zero client?
There are a few aspects
Well-configured host computer– including sufficient cores and frequency of CPU,  IOPS, and storage of Disks, size and frequency of Memory. (Multi-threading technology of Intel also helps to increase CPU capability and i series with hardware acceleration performs better than Xeon series of the same level. Disks in RAID configuration increases redundancy and performance. Intensive graphics processing requires a sufficient frequency of memory. The video card on the host helps in video playback only.)
Low latency, high-bandwidth network– recommend local-area network connections provided by standard 100 /1000 Mb/sec networks (i.e. Ethernet) between the host computers and the zero clients.
High efficient remote display protocol– offers high-resolution sessions, multimedia stream remoting, dynamic object compression, USB redirection, drive mapping and more.
Of the above 3 aspects, only the display protocol is determined by the zero clients. The display protocol determines two critical measures: experience and resource usage. The sticking point for many organizations will be various levels of multimedia support. Regardless of implementation status, any organization can have issues with multimedia support. This is true not only in large implementations that push bandwidth limits — even smaller installations may consume enough bandwidth to push the limits of the display protocol without a bottleneck on the wire. vCloudPoint zero clients utilized our innovative DDP (Dynamic Desktop Protocol) for remote desktop display. This protocol is purpose-built for zero clients and is designed to make efficient use of the network bandwidth and host resources, delivering a user experience that is equivalent to or even better than a business PC.