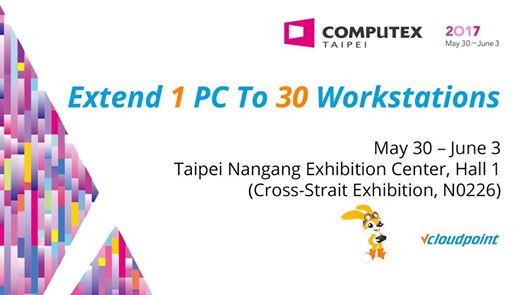 vCloudPoint will be attending Computex 2017 and will be showcasing the multiple application capabilities of the Shared Computing Solutions. vCloudPoint, recognized as an innovative computing solution provider, is continuing to keep the streamlined concept in helping our customers realize the highest ROI of computing spendings.
In 2015, vCloudPoint introduced the game-changing zero client S100 with vMatrix Server Manager software to the world, providing a real rich computing experience at the lowest cost. With the introduction of a number of cutting-edge technologies, including the high efficient Dynamic Desktop Protocol, vCell User Isolation, vDirect Client Rendering, vCloudPoint are coming under the spotlight. And the great simplicity of vCloudPoint devices and software makes client computing which is well known as complex, the first time so manageable to untrained users, helping vCloudPoint solution gain increasingly popularity among customers.
At Computex 2017, vCloudPoint will be again showcasing the S100 zero client, with the latest version of vMatrix software in real application. And the new model will be first time available for demonstration. Our team is looking forward to talking with.
Please come visit our booth (N0226 at China Exhibition Area) and see what we can do for your computing. We look forward to seeing you there!
Date: May 30th – June 3rd
Time: 9:30 a.m. – 16:00 p.m.
Address: Taipei Nangang Exhibition Center
Stand: Booth N0226 at China Exhibition Area,  Hall 1, Sky Dome (4th Floor)