Virtual Desktop Infrastructure (VDI)
Virtual Desktop Infrastructure (VDI) is a desktop computing solution which extends Server Virtualization to the desktop.  While Server Virtualization segments the servers into various Virtual Machines (VM), VDI allows users to remotely work on virtual desktops and applications that run inside virtual machines (VMs) through their client devices. Since the virtual machines are independent and isolated to each other, users will have the exact experience as they are running on a desktop computer.
Traditional PC solution

vCloudPoint VDI Solution
 vCloudPoint offers flexible options for your VDI implementation: either only the virtual desktop access components with connection broker and zero client device to works in harmony with any hypervisor to provide an optimized user experience or complete integration including the KVM hypervisor and management tools.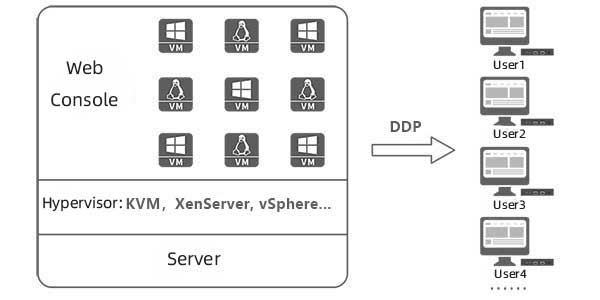 Zero Client Device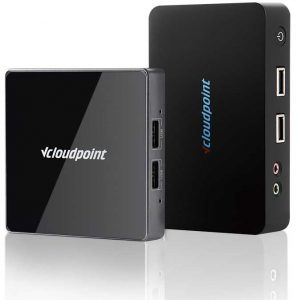 vCloudPoint zero client is also referred to as ultra thin client, because it contains no moving parts but centralizes all processing and storage to just what is running on the host. As a result, it requires no local driver to install, no patch management, and no local operating system licensing fees or updates. The device consumes very little power and is tamper-resistant and completely incapable of storing any data locally, providing a more secure endpoint.
Compare models
Reducing initial acquisition costs— The initial acquisition costs are saved when replacing PCs with vCloudPoint zero clients which cost less than half the price of entry-level PCs.

Better leverage of IT budgets— Sharing resources on a centralized PC improves leverage of hardware upgrade budgets and software licensing.

Greater energy saving— Compare to the 110 watts or more by a typical PC, the vCloudPoint zero clients consume only 5 watts and produce much less heat, providing at least an 80% savings in energy consumption and air conditioning over PCs.

Longer desktop refresh cycles— Lack of moving parts improves life spans in harsh environments like restaurants, public spaces, warehousing and manufacturing. The obsolescence-free feature also proves longer desktop refresh cycles, saving both refresh budgets and cutting the time for the refresh from weeks to hours.

Easy provisioning— Deploying hundreds of workstations can be a few hours compared to days or weeks with PCs. Install the vMatrix Server software on the shared PC, add multiple users, plug in Ethernet cable, mouse, keyboard, and monitor, and users are ready to work. A new workstation can be setup in seconds.

Centralized management.— There is nothing for IT to configure, manage, or update at the endpoint. All installations, patches & updates are done on a single host. One IT staff can handle 5 times as many devices and users compared to PCs.

Remote technical support— IT and support staff can provide support or fix problems right from their desks through monitoring and controlling over user desktops, eliminating the costs and delays of having to travel to remote user locations.
Reducing unplanned downtime— With no failure-prone parts and desktop-related problems unplanned endpoint downtime is greatly reduced. Even when turn faulty, the vCloudPoint zero client can be placed, helping the user back to work in seconds.

Rapid roaming from any client— No time is wasted on moving a heavy laptop or rebooting the system. With a simple log-off and then log-in from any vCloudPoint zero client, the user's back at his desktop with all open applications and files still in place.

Enabling file sharing— With some disks configured visible to all, users can share and store files easily on these public disks without the need to copy or transfer between desktops.

Eliminating virus infection— With no resident OS or storage capable of running software, the vCloudPoint zero client provides a completely secure endpoint that is immune to viruses and other malware.

Security policies and monitoring— vMatrix allows IT staff to apply security policies, monitor, and remotely disable any end user from logging in or lock-down locally connected USB peripherals, preventing users from copying confidential data to removable storage.

No risk of data lost— Since the vCloudPoint zero clients cannot store any data locally, users are free of worrying about data loss stemming from hardware failure or laptop/PC theft.


vCetrix Virtualization Manager & vMatrix Server Manager
vCetrix Virtualization Manager is a web-based management front-end that gives you complete control over and visibility into clusters, hosts, virtual machines, storage, networking and other critical elements of your KVM based server end infrastructure.
vMatrix Server Manager is the virtual desktop broker and zero client controller for vCloudPoint's desktop infrastructure. vMatrix Server Manager runs in a Windows virtual machine to provide virtual machine connection and high desktop experience powered by DDP (Dynamic Desktop Protocol) to zero client users. vMatrix Server Manager includes an extensive toolset for managing in-LAN zero clients and remote desktop sessions for use cases where virtual machines are extended as shared hosts by multiple users.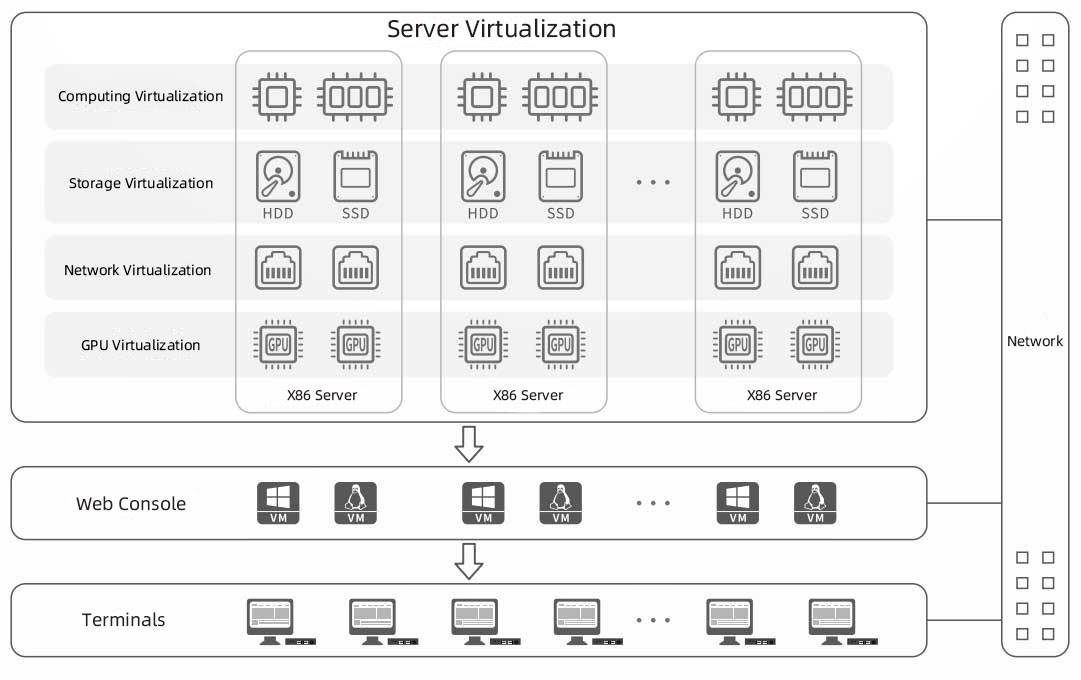 Desktop Display Protocol
vCloudPoint zero clients utilize its innovative Dynamic Desktop Protocol (DDP) for remote desktop display. This protocol consists of Graphic Acceleration, Virtual Audio and USB Redirection for delivering a full PC experience.




Unlike other remote display protocols, such as the Window built-in RDP (+ RemoteFX), SPICE for open source KVM virtualization platforms, and the various protocols derived from them, the DDP  is completely original from vCloudPoint, and with lots of optimization. In terms of image transmission and operation processing, DDP Graphic Acceleration module provides efficient image compression, transmission and coding, to ensure PC-like smoothness and responsiveness; additionally it reduces image compression loss to improve pixel resolution and color rendition as well as reducing network bandwidth and host resource consumption to optimize multi-process processing capabilities so that experience of multi-user scenarios can be the same as that of single user. In terms of audio transmission, the DDP virtual audio driver supports stable I / O bi-directional audio, and uses high code rates, bit rates, and sample rates to deliver high-definition audio quality while guaranteeing millisecond-level delayed audio transmission. In terms of the USB device support, DDP USB device re-director achieve stable USB device support by extending the physical USB bus with virtual USB bus. Remote USB device can be recognized at a few seconds when connected, without requiring a dedicated client driver installed. In multi user environment, storage device isolation is also enabled by users for data security; and some restrictions or side problems of USB redirection that may be encountered in other competitive solutions are eliminated with our solution.。

Server
vCloudPoint servers are particularly tailored for the multi-user computing implementations to meet desired desktop performance demand at minimized cost. These servers are specifically configured according to the number of concurrent running users, expected workload of each user, and the resource utilization efficiency of the vCloudPoint system. Each server has undergone strict tests in the simulated user scenario before shipment to ensure that it works well in your environment.
For customers who are planning to use existing servers or purchase servers yourself, please refer to our recommended host configuration guide.
Host Configuration



(Tower/ Rack)
Cost-effective

Excellent performance for multi-user computing at the lowest cost.

Customizable

Customizable hardware configuration & with pre-installed software to use out of box.

Reliable

Strictly tested before shipment to ensure reliable performance in your environment.