TEC1-12706 Thermoelectric Peltier Cooler ME187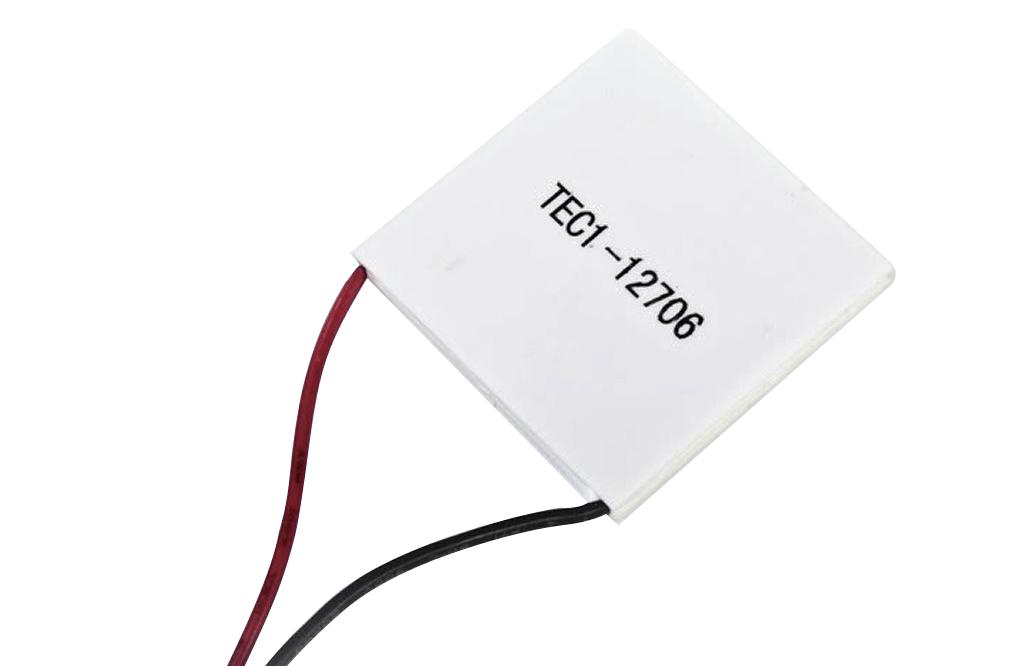 TEC1-12706 Thermoelectric Peltier Cooler
ME187
• Semiconductor material is sandwiched between the ceramic plates • You can reverse the polarity to get cold or heat in minutes • Can be used for CPU cooler, car drink cooler, car drink warmer, etc • Semiconductor coolers are solid, vibration-less and noise-free • Easy to install and to use
• Couples: 127 • Maximum Voltage: 12V • Maximum Current: 4A • Maximum Power: 70.3W • Power Cable Length: Approx. 35cm(14 inch)
• Maximum Temperature Difference: 67 degree Celsius • Dimension(L x W x H): Approx. 40 x 40 x 3.5mm
Waterproof DS18B20 Digital Temperature Sensor 3DS024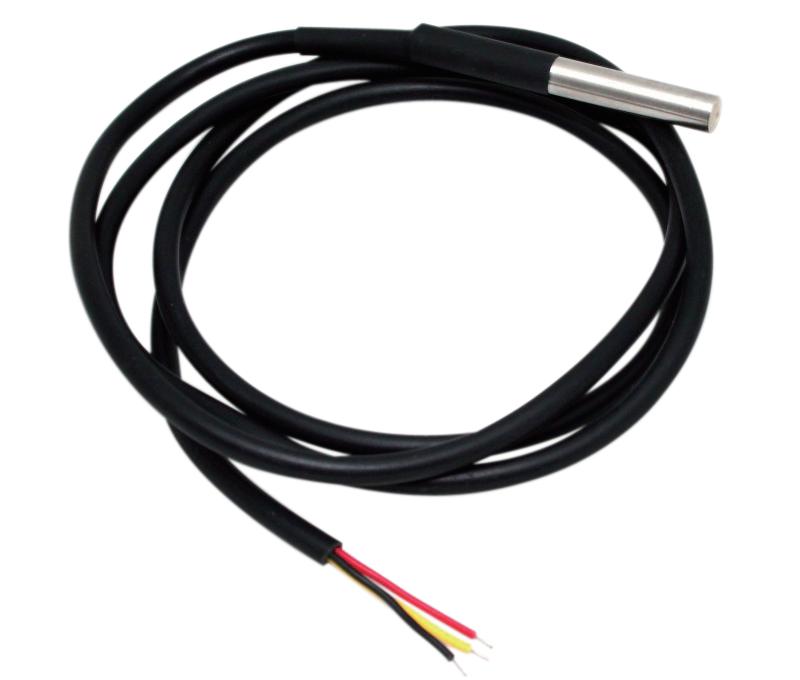 Waterproof DS18B20 Digital Temperature Sensor
3DS024
• The probe based on DS18B20 chip • High quality stainless steel tube encapsulation waterproof moisture proof prevent rust • Cable length: 100 cm
• Stainless steel shell 6 x 50mm • Power supply range: 3.0V to 5.5V • Operating temperature range: -55°C to +125°C (-67°F to +257°F)
• Storage temperature range: -55°C to +125°C (-67°F to +257°F) • Accuracy over the range of -10°C to +85°C: ±0.5°C. • No other components required, working directly with One Wire data protocol. • Output lead: red (VCC), yellow(DATA) , black(GND)
DIY Clap Acoustic Control Switch PCB Kit- unassembled ME191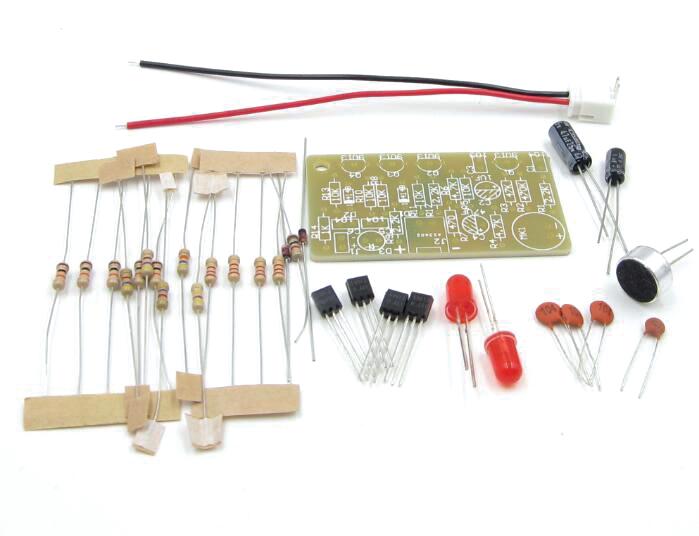 DIY Clap Acoustic Control Switch PCB Kit- unassembled
ME191
This is a simple clap voice control electric circuit, but its need to be soldered by the user. It not only tech you how to solder but a fun clap control circuit. • Operating Voltage: 5V. • PCB Size: 28 x 49mm
DIY DS1302 Rotating LED Electronic Digital Clock Kit ME192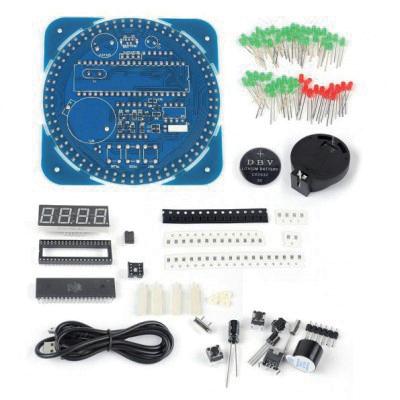 DIY DS1302 Rotating LED Electronic Digital Clock Kit
ME192
This is an affordable and practical and beautiful DIY kit. Can show time, temperature and date. Especially for electronic major students learning to use, the board also has plug-chip devices both devices to help you improve the welding technology! After completion of production not lack scope for their abilities. Can write your own research program, also can send friend or send to parents, personally produced gift full of deep feeling.
• Size: 81mm x 81mm x 1.6mm • PCB thickness: 1.6 mm • Material: FR4 military level • PCB color: Blue • Digital Tube display: Red
• Power supply voltage: mini USB, external connection 5V ,3V button battery for clock chip on the board of the standby power supply
LM386 Super MINI Amplifier Board 3V-12V DIY Kit-unassembled ME193
LM386 Super MINI Amplifier Board 3V-12V DIY Kit-unassembled
ME193
• PCB board x1 • 10K variable resistor x1 • Potentiometer knob housing x1 • 6-pin x1 • 1K resistor x1 • 10 ohm x1 • 104 ceramic capacitors x2
• DIP8 IC socket x1 • LM386 x1 • DC005 Block x1 • 3MM LED x1 • 10UF Capacitance x1 • 100UF Capacitor x1 • 1000UF capacitor x1 • 3.5 Audio Block x1
3W+3W USB Wireless Bluetooth 4.0 Stereo Audio Receiver Module Digital Amplifier ME194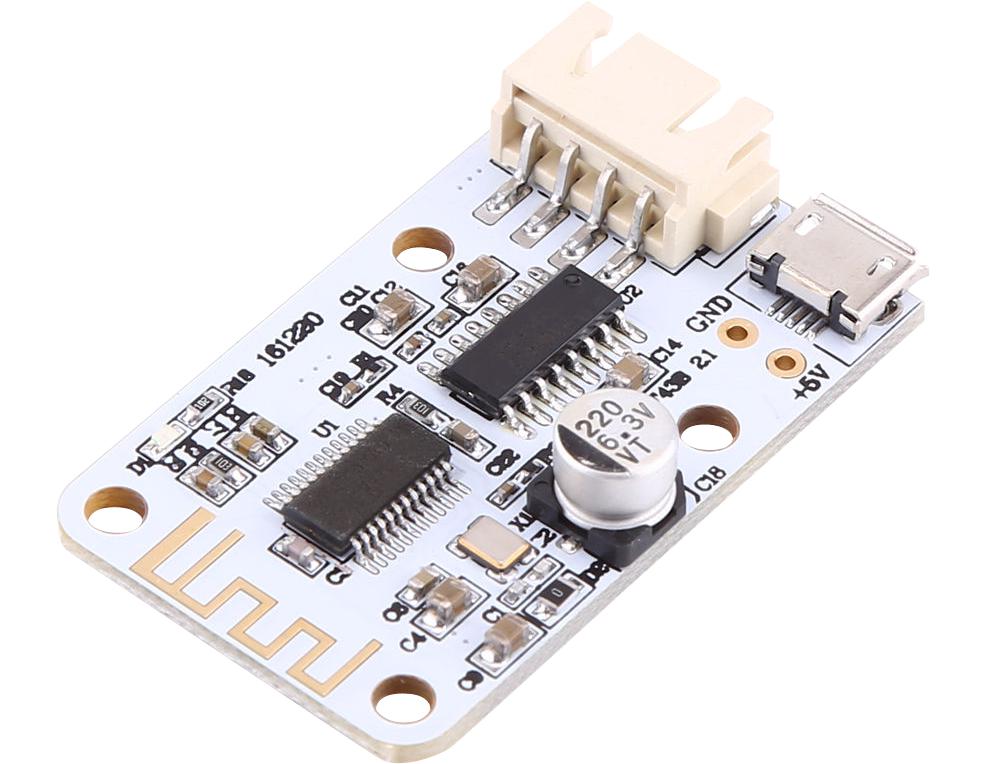 3W+3W USB Wireless Bluetooth 4.0 Stereo Audio Receiver Module Digital Amplifier
ME194
• Working voltage: DC 5V • Output power: 3W+3W • Speaker type: 3W x 2 4-8ohm • Mounting Hole: 3.0mm
CAN-BUS Shield for Arduino® ME195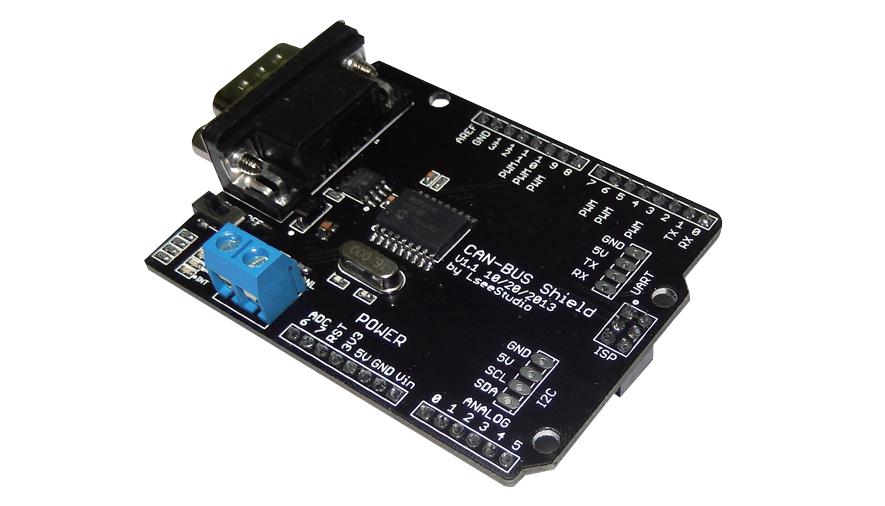 CAN-BUS Shield for Arduino®
ME195
• Implements CAN V2.0B at up to 1 Mb/s • SPI Interface up to 10 MHz • Ariduino Completely compatible • Standard (11 bit) and extended (29 bit) data and remote frames • Industrial standard 9 pin sub-D connector • Two receive buffers with prioritized message storage • Two receive buffers with prioritized message storage • Operating voltage: DC5-12V • Size: 78mm x 53.5m
Si4703 Fm Radio Tuner Evaluation Development Board For Arduino® ME196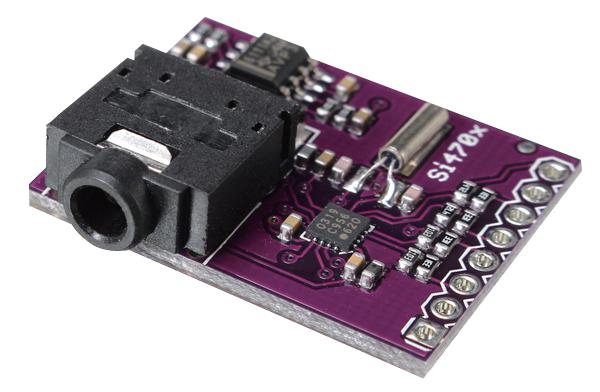 Si4703 Fm Radio Tuner Evaluation Development Board For Arduino®
ME196
This is an evaluation board for the Silicon Laboratories Si4703 FM tuner chip includes an amp and a headphone jack, and that's everything you need to get up and running! Beyond being a simple FM radio, the Si4703 is also capable of detecting and processing both Radio Data Service (RDS) and Radio Broadcast Data Service (RBDS) information. The Si4703 even does a very good job of filtering and carrier detection. It also enables data such as the station ID and song name to be displayed to the user.
Using this board we are able to pick up multiple stations just as well as with a standard FM radio. The board breaks out all major pins and makes it easy to incorporate this great chip into your next radio project. Also, by plugging headphones into the 3.5mm audio jack, you effectively use the cable in your headphones as an antenna! Therefore, this board does not require an external antenna if using headphones or a 3.5mm audio cable longer than 3 feet.
TEA5767 FM Stereo Radio Module for Arduino® ME197
TEA5767 FM Stereo Radio Module for Arduino®
ME197
• Power supply: 5V • Frequency range: 76~108MHz • PCB size: 31 x 30mm • With reverse polarity protection diode • With power output filtering sensor • Directly plug antenna interface • I2C bus communication • Multi capacitor combined filter • Blue LED power indicator • FM chip module TEA5767
• Onboard 3.5mm audio interface
Arduino® MP3 shield board with TF card ME198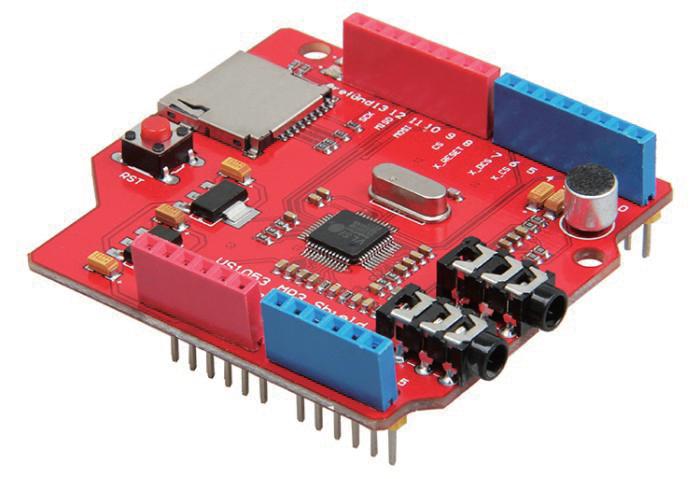 Arduino® MP3 shield board with TF card
ME198
This MP3 shield board is designed based on VS1053B from VLSI. using this shiled you can plug in your arduino UNO/MEGA directly as showing in pic, dont' need to hook up with jumpers, it's becomes more easy to play music compared with the tiny mp3 breakout board. VS1053 is a versatile MP3 codec processor that is capable of decoding a variety of music formats,including Ogg Vorbis/MP3/AAC/WMA/MIDI audio. For the best headphone listening experience, the VS1053 includes EarSpeaker spatial processing which accurately simulates how a room with stereo loudspeakers would sound. In addition to being able to decode all major formats, VS1053 is capable of recording in Ogg Vobis file.
With the TF card slot on the other side of the board, you can play mp3 files from TF card using this breakout. It is easily to drop it in your project or make a mp3 player using your Arduino or other microcontroller. Features Can play a variety of music formats, support for OGG encoding real-time recording SPI interface, the control signal lines are led out A headphone and stereo output A microphone for recording A line_in input interface Power indicator 3.3V and 2.8V of LDO chip AMS-1117 on board, provides up to 800mA current A single power supply: +5 VDC 12.288 Mhz crystal TF card slot .