Mini VNH2SP30 Monster Moto Shield Module Stepper Motor Driver 30A ME199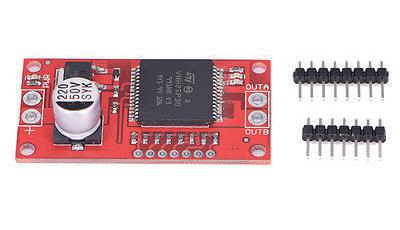 Mini VNH2SP30 Monster Moto Shield Module Stepper Motor Driver 30A
ME199
• Power supply: Max 16V • Maximum current rating: 30 A • Practical Continuous Current: 14 A • Current sensing available to Arduino analog pin • MOSFET on-resistance: 19 mΩ (per leg) • Maximum PWM frequency: 20 kHz • Thermal Shutdown • Under-voltage and Over-voltage shutdown
Wifi Extension board based on ESP8266 compatible Arduino® UNO ME200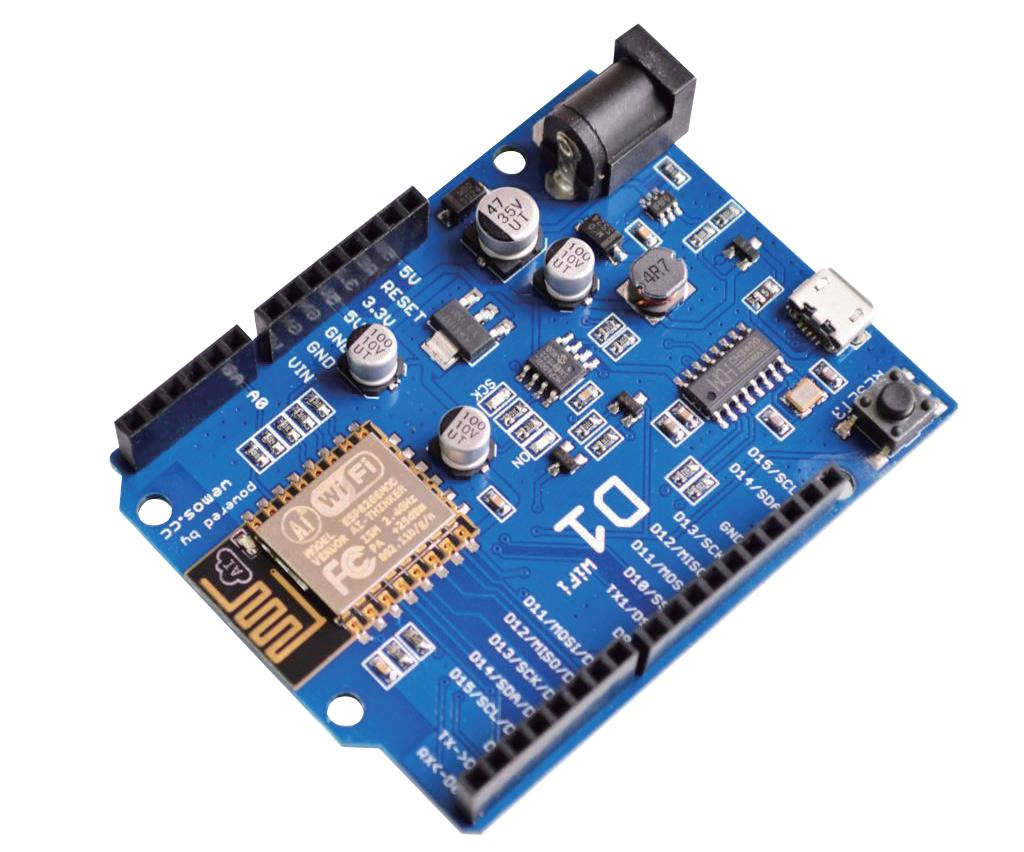 Wifi Extension board based on ESP8266 compatible Arduino® UNO
ME200
• Based on the ESP-8266EX. • Arduino® Compatible, you can use it on Arduino IDE. • 11 Digital I/O pins • Analog Input pin
• OTA — Wireless Upload(Program) • On board switching power supply — Max 24V input, 5V 1A output
ATTINY85 Mini Usb MCU Development Board For Arduino® ME243
ATTINY85 Mini Usb MCU Development Board For Arduino®
ME243
• 8K Byte of In-System Programmable Program Memory Flash • 512 Bytes In-System Programmable EEPROM • 512 Bytes Internal SRAM • 1.8-5.5V work voltage • Support SPI/TWI communication • Low power consumption
MIDI Shields Adapter Board Compatible with Arduino® ME202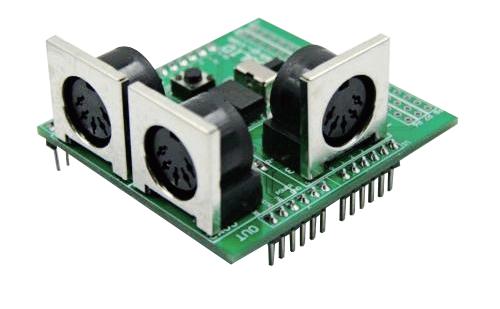 MIDI Shields Adapter Board Compatible with Arduino®
ME202
Through the MIDI adapter plate, your Arduino® board or other microcontrollers can be accessed to powerful MIDI communication protocol. MIDI protocol and asynchronous serial interface has many similarities, so users can use the micro-controller UART pin to send MIDI event information. MIDI adapter plate provides MIDI – IN and MIDI – OUT connection, and MIDI THRU port. MIDI – port is light IN isolation, to prevent the ground loop. MIDI adapter plate can be installed directly like a shield at the top of the Arduino® board: connect MIDI – IN/THRU to for Arduino® hardware RX pin, connect MIDI – OUT to TX. It Arduino data and analog pin, power bus and the bus can transfer out. The RUN/PGM switch can let users on the for Arduino® board serial port programming, without having to remove the board. Note: the three hole MIDI connector no welding on the MIDI adapter plate, but these connectors included in this product.
LilyPad Coin Cell Battery Holder ME203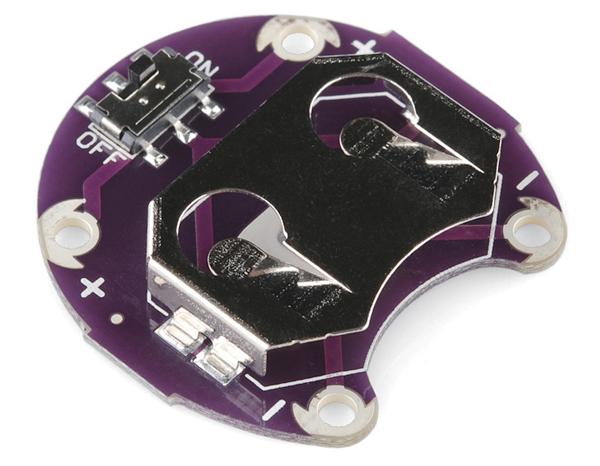 LilyPad Coin Cell Battery Holder
ME203
This LilyPad Coin Cell Battery Holder has a small slide switch installed on the board, in-line with the power so you can shut off your project and save batteries. This slide switch is the same as is found on the LilyPad slide switch board, so it's not easy to accidentally turn off or on.
Just like the original Coin Cell Battery Holder, this simple board holds a 20mm coin cell battery (such as a CR2032) and gives you 4 connection points (two positive and two negative) for sewing into your project.
SIM900 GPRS/GSM Shield Compatible with Arduino® ME204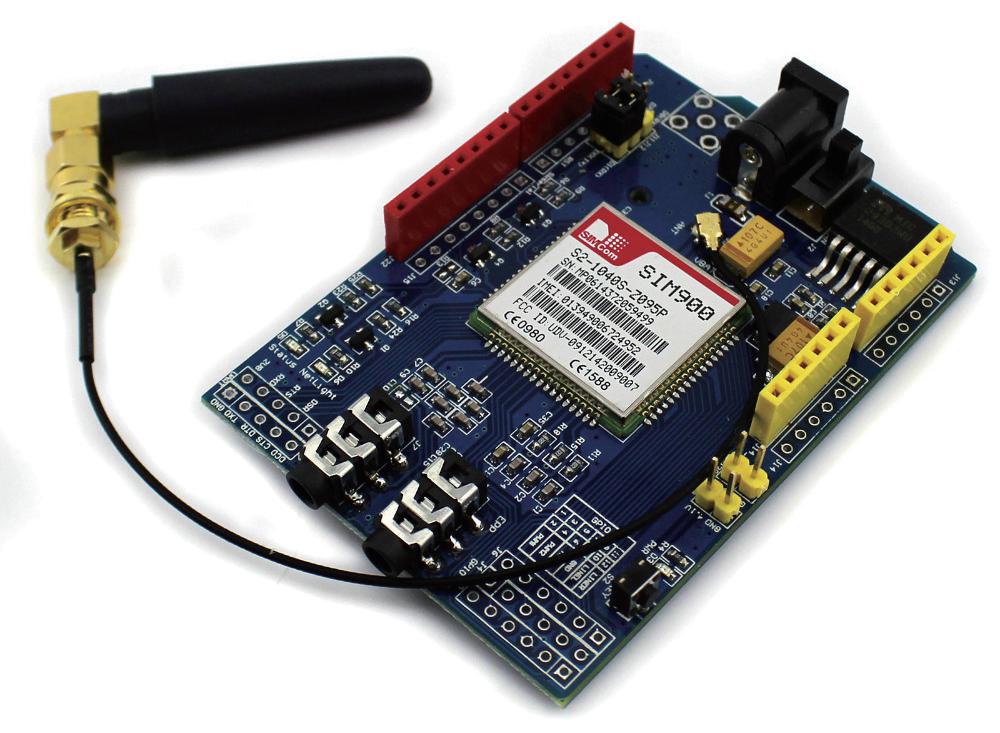 SIM900 GPRS/GSM Shield Compatible with Arduino®
ME204
The GPRS Shield is based on SIM900 module from SIMCOM and compatible with Arduino and its clones. The GPRS Shield provides you a way to communicate using the GSM cell phone network. The shield allows you to achieve SMS, MMS, GPRS and Audio via UART by sending AT commands (GSM 07.07 ,07.05 and SIMCOM enhanced AT Commands). The shield also has the 12 GPIOs, 2 PWMs and an ADC of the SIM900 module (They are all 2V8 logic) present onboard.
• Quad-Band 850 / 900/ 1800 / 1900 MHz – would work on GSM networks in all countries across the world. • GPRS multi-slot class 10/8 • GPRS mobile station class B • Compliant to GSM phase 2/2+ • Class 4 (2 W # 850 / 900 MHz) • Class 1 (1 W # 1800 / 1900MHz)
• Control via AT commands – Standard Commands: GSM 07.07 & 07.05 | Enhanced Commands: SIMCOM AT Commands.
• Short Message Service – so that you can send small amounts of data over the network (ASCII or raw hexadecimal).
• Embedded TCP/UDP stack – allows you to upload data to a web server. • RTC supported. • Selectable serial port. • Speaker and Headphone jacks • Low power consumption – 1.5mA(sleep mode) • Industrial Temperature Range – -40°C to +85 °C • Size: 8.5×5.7x2cm(approx)
16 channel Servo controller USB power supply ME241
16 channel Servo controller USB power supply
ME241
Features:
• Control servo, step motor, DC at the same time • Remote control by smart phones • 32bit processor • Can drive 16 channels servo, adjustable speed • 0.1us accuracy • Can be with external drive 2 channels DC motor • With 8 channels 12 bit analog input, can connect to potentiometer, control motor directly • Support TTL and IIC interface • Bluetooth interface, wireless connect to PC or phones • Can define action Group freely
Parameters:
• Main chip: STM32 series • Main frequency: 48MHz • Size: 43.5 x 36 x 12mm • Mounting hole: 37 x 30mm hole dia.3mm • Servo motor channel: 16 • Operating temperature: -40~80 deg C • Motor operating voltage: 5V-7.4V, servo voltage5-7V • PWM accuracy: 0.1us • Servo minimum step: 1us
• DC motor channel: external connect to 2 channels DC motor or step motor • Motor control frequency: 25KHz • Analog control channel: 8 channel • Communication interface: TTL IIC • Communication speed: 115200-2400Kps • PC Software: Yes • Action group: 16 • Storage action: 8192
• Multiple cascade expansion: Yes
Servo Motor Driver PWM 16 Channel 12-Bit PCA9685 ME234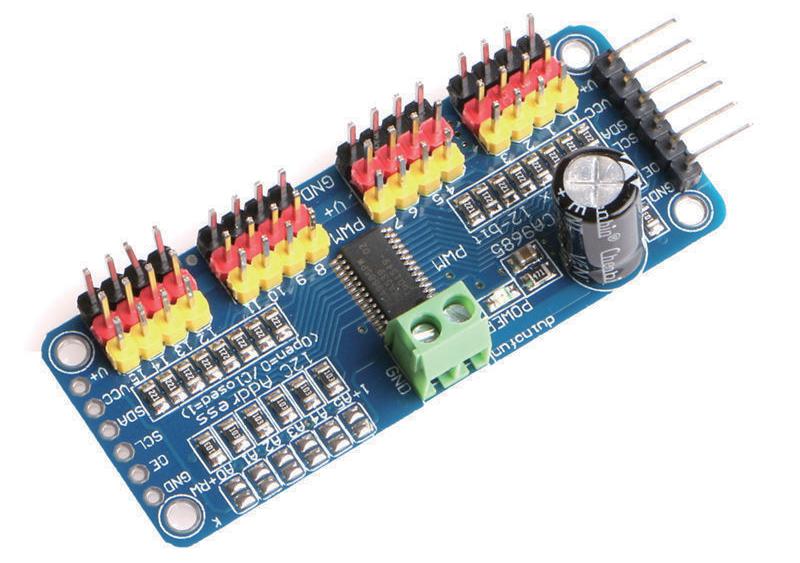 Servo Motor Driver PWM 16 Channel 12-Bit PCA9685
ME234
Power input terminals.
The green power light.
Reverse polarity protection input in a patch panel.
3 pin connectors in groups of 4 so you can plug-in in 16 servos at once (Servo plugs are slightly wider than 0.1 "so you can only stack 4 next to each other on 0.1" header.
Cascade design.
V + online to place a large capacitance, peripheral input maximum voltage depends on the 10 V 1000 uf capacitance, all PWM output line put
a 220 ohm resistor to protect them, and drive leds easily.
Features:
• Input Voltage: 3 – 5v • Frequency: 40 – 1000Hz • Resolution: 12 bit • Dimension: 60mm x 25mm • Weight: 12g
CCS811 Air Quality Sensor Breakout Board ME240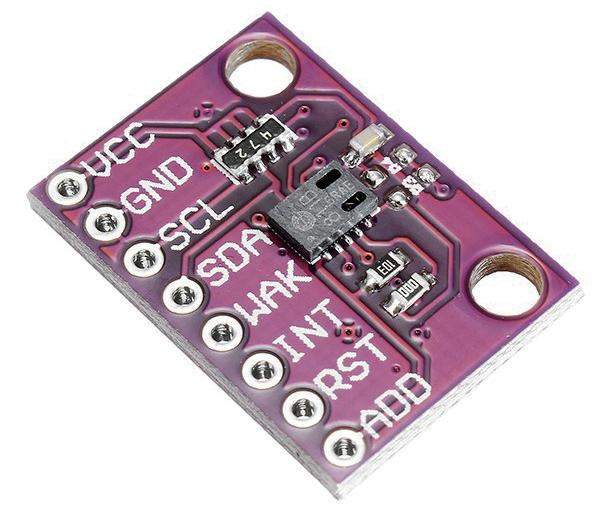 CCS811 Air Quality Sensor Breakout Board
ME240
Specifications:
Total Volatile Organic Compound (TVOC) sensing from 0 to 1,187 parts per billion eCO2 sensing from 400 to 8,192 parts per million
Five Operating Modes
Integrated MCU
Onboard Processing
Standard I2C Digital Interface
Optimised Low-Power Modes